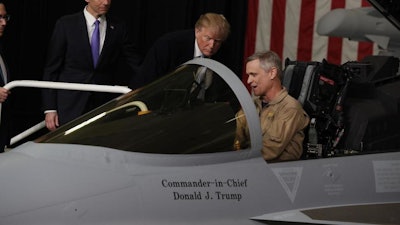 AP Photo/Evan Vucci
President Donald Trump visited a Boeing facility in St. Louis yesterday to check out the company's fighter jets. He also had plans to hold a round-table discussion with business leaders.
The president climbed a set of metal stairs to take a look at the cockpit of an EA-18 Growler plane. He called Boeing a "truly great company" and said the U.S. makes the best fighter jets in the world.
Trump said he has asked Congress to provide funding for two dozen new F-18 jets and jokes with the head of Boeing that he's "working on price."
Boeing's facility in St. Louis produces Navy F/A-18s and Air Force F-15s.
The president is in Missouri to promote the benefits of last year's tax overhaul. He says families in Missouri will save $4 billion in taxes in 2018. The president will also campaign for Republican Senate candidate Josh Hawley, who is running for the Senate seat currently held by Democrat Claire McCaskill.
It's Trump's second fundraiser in as many days.