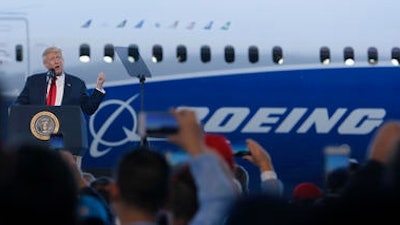 AP Photo/Mic Smith, File
WASHINGTON (AP) — President Donald Trump has reached an informal deal with Boeing to provide the next generation presidential aircraft, the White House says.
Deputy press secretary Hogan Gidley said Tuesday that the president negotiated a $3.9 billion "fixed price contract" for the new planes, known as Air Force One when the president is on board. It follows years of negotiations between Boeing and the U.S. Air Force — and Trump's personal intervention since his election.
In December 2016, Trump tweeted that costs for the program were "out of control, more than $4 billion," he added. "Cancel order!"
Boeing chief executive Dennis Muilenburg met multiple times with Trump to discuss the Air Force One contract according to the White House, most recently last week.
Gidley said the agreement would "save the taxpayers more than $1.4 billion."
Boeing, in a statement, said it is 'is proud to build the next generation of Air Force One." The company added: "President Trump negotiated a good deal on behalf of the American people."
The agreement includes the two 747-800 aircraft, and the cost of modifying the commercial planes with the equipment needed to support the president, including external stair, large galleys, and a secure communications suite.