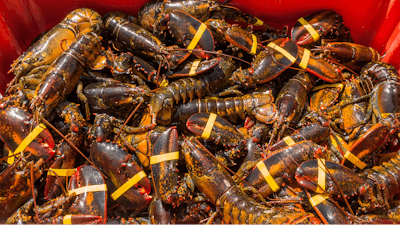 PORTLAND, Maine (AP) — A seafood dealer is planning to build one of the largest lobster processing facilities in the country in Maine, potentially meeting a need the state's lifeblood's industry has long sought to address.
Maine fishermen catch more lobsters than anyone else in the U.S., but the state has a lack of facilities to process their meat for commercial use. Enter Ready Seafood Co. of Portland, which plans to change that with a new 40-acre campus in Saco, 18 miles south of Portland.
The new facility would include space for processing, as well as tanks to keep live lobsters for shipping. Both aspects would rival the largest existing facilities in the state, which has about a half dozen lobster processors, said John and Brendan Ready, the co-owners of the business.
The project could help alter the landscape of the North American lobster business, in which Americans typically send millions of pounds per year to Canada, which has far greater processing capacity than the U.S. The U.S. sent more than $200 million worth of lobsters to Canada last year alone.
"These lobsters are already going across the border to Canada. Why aren't they being processed here?" Brendan Ready said. "Because you need infrastructure."
Ready Seafood hopes to break ground in June and get the first phase of the project open by summer 2019. The project received a key approval from the city of Saco on Monday night. The Readys also plan a solar farm on the property.
More processing capacity could be helpful for the state's lobstermen, because it would mean more of their catch would stay local, said Kristan Porter, president of the Maine Lobstermen's Association.
"We'd love to see those lobsters processed in Maine, and keep some of that money in Maine," he said.
Maine lobstermen brought a little more than 110.8 million pounds (50.3 million kilograms) of lobster to the docks last year. They've caught more than 100 million pounds of lobster for seven consecutive years after never previously reaching that mark. Prices to consumers have been steady during the period of high availability.