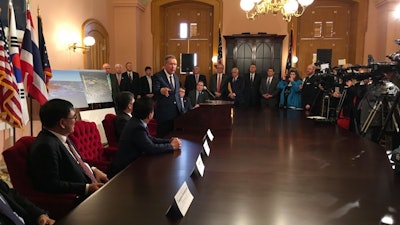 COLUMBUS, Ohio (AP) — Gov. John Kasich said Monday that a major South Korean industrial plant builder has joined an effort to build a multibillion-dollar petrochemical plant in eastern Ohio to take advantage of the region's oil-and-gas boom.
Kasich, a Republican, called the partnership between Seoul-based Daelim Industrial and Thailand's PTT Global Chemical a "game-changer" for the proposed plant, which has idled in the planning stages for years. Daelim, according to its website, is South Korea's oldest construction company and an expert in petrochemical technology.
"If this can happen, and I'm more optimistic ultimately that this will happen, we're not just interested in this," he said during a news conference. "We're interested in building an entire community of technology."
The U.S. subsidiary of PTT has been working for several years with officials from JobsOhio, Ohio's privatized economic development office, on a proposal to build the plant on the site of a former FirstEnergy coal-fired power plant along the Ohio River in Belmont County.
The facility, commonly referred to as an ethane cracker, would convert ethane, a byproduct of natural gas drilling, into a hydrocarbon called ethylene that's further processed and used for plastics production and has other industrial uses.
Monday's announcement again stopped short of a full commitment by either firm to build the plant, which Kongkrapan Intarajang, PTT's chief operating officer, said will approach $7.5 billion. JobsOhio officials said that decision could come by the end of 2018.
"What they would build here would be probably the leading technological effort at cracking gas in the world," Kasich said, noting that he has told the two companies' leaders "guys, you can't wait."
Asked whether Kasich had applied pressure to see the deal done, "Sean" Sang Woo Kim, president and chief executive officer of Daelim's petrochemical division, told a reporter, "Oh, yeah, a tremendous amount of pressure. You know Mr. John Kasich."
The uncertain future of the project has caused concern in an Appalachian region of the state that's counting on the project to create thousands of construction jobs and hundreds of permanent positions. PTT officials said in February 2017 that the company would decide by the end of that year whether to build the plant. That was after previously saying the announcement would come in the spring of 2017.
Jen Miller, director of the Sierra Club's Ohio chapter, said going forward with the project is a bad idea that would have "disastrous consequences for our health and safety."
"This plant would subject Ohio communities to increased air pollution, not to mention the threat of fires, explosions, and other large-scale disasters," she said in a statement. "The health and safety of Ohioans and those who live downstream on the Ohio River are worth more than fracked gas industry profits."
PTT has spent about $150 million on engineering and design so far, company and JobsOhio officials said.
The new partnership's plans call for building a plant capable of producing 1.5 million metric tons (1.65 million tons) of ethylene a year, which would be a 50 percent increase in capacity over what PTT originally proposed.