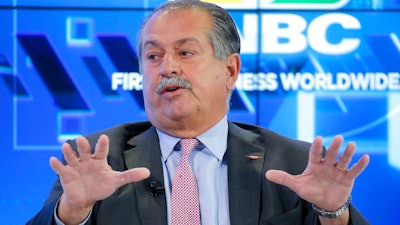 AP Photo/Michel Euler, File
MIDLAND, Mich. (AP) — The longtime chief executive of Dow Chemical, who led the company through the financial crisis, a merger with rival DuPont and the planned disassembly of the entire enterprise, is stepping down.
Andrew Liveris announced two years ago he'd retire by mid-2017, but that was delayed until the company named a successor to head its materials-science division, one of three companies that DowDupont will divide itself into.
DowDupont Inc. said Monday that Liveris, 63, will give up his executive chairmanship in April, and his role as director in July, when he officially retires.
Jeff Fettig, a longtime independent director, will become executive chairman. Jim Fitterling will lead the materials-science company, to be created during a planned breakup next year. DowDuPont will break itself into three distinct companies after a successful, merger between Dow and DuPont last year valued at close to $70 billion.
Liveris, who has led Dow Chemical Co. for 14 years, guided the company through a severe spike in energy prices in 2007-08 (petrochemicals as a major cost for chemical producers), as well as the global economic crisis that followed, almost upending the company founded late in the 19th century.
Dow secured a multibillion investment from Warren Buffett, buying it the time to completely reshape the company into three smaller and more stable entities.
Liveris' legacy will be the merger with DuPont, and the path by which the combined company will break apart.
The merger first announced in December 2015 was initially expected to close two years ago, but it had to be piloted through stiff resistance from U.S. and foreign regulators. The tie-up between the two had been a Liveris goal for almost a decade at that point.
DowDuPont will spin off this year into three public companies: one focusing on agriculture, one on material science and one on specialty products.
His tenure and his outspokenness made Liveris one of the most well-known faces in corporate America.
The native of Australia headed the administration's Manufacturing Council until it was disbanded last year, with a number of executives attempting to distance themselves from President Donald Trump following his response to a white supremacist rally in Charlottesville.