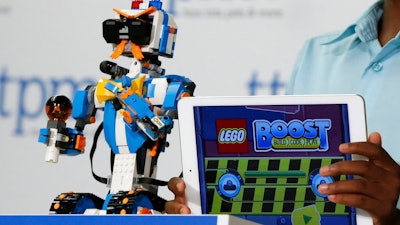 AP Photo/Richard Drew
COPENHAGEN, Denmark (AP) — Toy maker Lego says its earnings and sales fell in 2017 as it tried to turn around its business after 13 years of growth.
The Danish company had warned in October that sales were falling for the first time since 2004 from record highs and that it would seek new ways to grow. In its annual report Tuesday, it said that effort was still ongoing.
Sales in 2017 fell 8 percent to 35 billion kroner ($5.8 billion), with net income dropping 17 percent to 7.8 billion kroner.
CEO Niels B. Christiansen said: "2017 was a challenging year and overall we are not satisfied with the financial results."
However, he noted a pickup toward the end of the year and said Lego was moving ahead to simplify its business model.