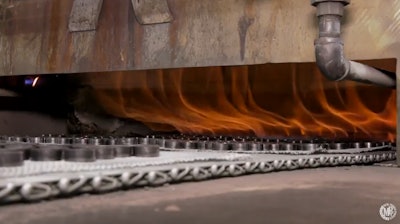 Metal Powder Products
WESTFIELD, Ind. -- Metal Powder Products (MPP) has acquired NetShape Technologies, a Floyds Knobs, IN-based manufacturer and solutions provider of engineered metal components using powdered metal and metal injection molding (MIM) technologies.
MPP is a provider of custom-engineered powder metallurgy solutions for industrial applications, including material formulation, sintering, densification and joining techniques.
"The combination of MPP and NetShape creates a global leader in powdered metal manufacturing," said Dennis McKeen, President & CEO of MPP. "The combined company's increased scale and capabilities will provide our customers with unmatched quality and service."
The company has nine production facilities in the U.S. and China that specialize in the production of various components, including custom-engineered gears and sprockets, complex structural parts, high strength aluminum parts and components requiring unique mechanical and physical properties, for use in high stress, wear and magnetic applications.
"The NetShape acquisition provides MPP with key strategic additions such as MIM capabilities and a Chinese manufacturing footprint," said Chuck Spears, Executive Chairman of MPP.