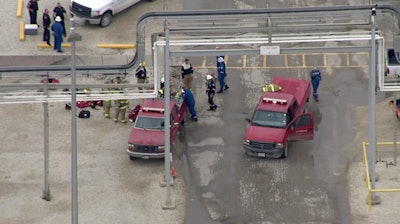 @abc13houston, Twitter
LA PORTE, Texas (AP) — Emergency responders say no one has been hurt in a high-pressure release at a Houston-area gasification plant.
Police in La Porte (luh-PORT') say the incident, initially reported as an explosion, happened late Wednesday morning at Linde (LIN'-dee) Gas.
Sgt. Bennie Boles says officers responded to a gas release and rapid depressurization. Boles says the site was shut down and secured, with no reported injuries.
He says the unit was inspected and declared safe. A nearby highway was briefly shut down, as a precaution.
A statement from New Jersey-based Linde North America says a line breach resulted in a loud noise, the release of gases was stopped and there's no risk to the surrounding community.
La Porte is 20 miles (32 kilometers) east of Houston.