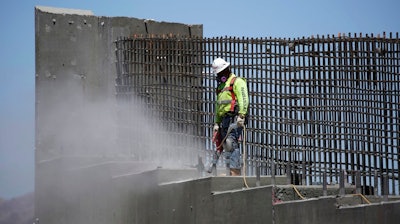 AP Photo/John Locher, File
WASHINGTON (AP) — President Donald Trump on Monday launched a "big week" for his long-awaited infrastructure plan, which envisions spurring $1.5 trillion in spending over a decade to rebuild roads and highways. The plan would fulfill some Trump campaign goals but rely heavily on state and local government for much of the funding.
Trump said on Twitter that it would be "a big week for Infrastructure. After so stupidly spending $7 trillion in the Middle East, it is now time to start investing in OUR Country!" He was meeting with state and local officials at the White House later in the day to drum up support.
The administration's plan is centered on using $200 billion in federal money to leverage local and state tax dollars to fix America's infrastructure, such as roads, highways, ports and airports.
Trump has repeatedly blamed the "crumbling" state of the nation's roads and highways for preventing the American economy from reaching its full potential. Many in Washington believe that Trump should have begun his term a year ago with an infrastructure push, one that could have garnered bipartisan support or, at minimum, placed Democrats in a bind for opposing a popular political measure.
But the administration chose to begin with health care and relations with Democrats have only grown more strained during a turbulent, contentious year. The administration has pushed two previous "infrastructure weeks," in June and August, that were sidetracked by other events.
This time, the White House is grappling with the fallout from the departure of a senior aide after spousal abuse allegations, which has dominated the political dialogue since last week.
The massive infrastructure plan's path through a polarized Congress isn't clear. Congress has just dealt with two federal government shutdowns and is turning its attention to immigration.
Administration officials previewing the plan said it would feature two key components: an injection of funding for new investments and help speed up repairs of crumbling roads and airports, as well as a streamlined permitting process that would truncate the wait time to get projects underway. Officials said the $200 billion in federal support would come from cuts to existing programs.
Half the money would go to grants for transportation, water, flood control, cleanup at some of the country's most polluted sites and other projects.
States, local governments and other project sponsors could use the grants — which administration officials view as incentives — for no more than 20 percent of the cost. Transit agencies generally count on the federal government for half the cost of major construction projects, and federal dollars can make up as much as 80 percent of some highway projects.
About $50 billion, would go toward rural projects — transportation, broadband, water, waste, power, flood management and ports. That is intended to address criticism from some Republican senators that the administration's initial emphasis on public-private partnerships would do little to help rural, GOP-leaning states
Early reaction to the proposal was divided.
Jay Timmons, president of the National Association of Manufacturers, saluted Trump "for providing the leadership we have desperately needed to reclaim our rightful place as global leader on true 21st-century infrastructure."
"When ports are clogged, trucks are delayed, power is down, water is shut off, or the internet has a lapse, modern manufacturers' ability to compete is threatened and jobs are put at risk," said Timmons. "There is no excuse for inaction, and manufacturers are committed to ensuring that America seizes this opportunity."
But a number of Democrats and the U.S. Chamber of Commerce have pushed the administration to commit far more federal dollars, funded by tax increases, or by closing tax loopholes. And environmental groups expressed worry about its impact.
"President Trump's infrastructure proposal is a disaster," said Shelley Poticha, of the Natural Resources Defense Council. "It fails to offer the investment needed to bring our country into the 21st century. Even worse, his plan includes an unacceptable corporate giveaway by truncating environmental reviews."