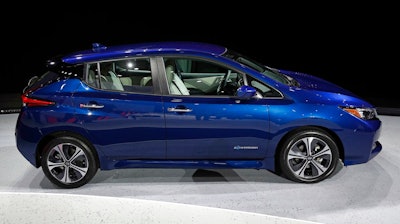 AP Photo/John Locher, File
TOKYO (AP) — A perk from U.S. tax reforms is helping lift Nissan's fiscal third quarter profit, although costs had to be earmarked and sales were dented by news of improper vehicle inspections at its plants in Japan.
Nissan Motor Co. reported Thursday an October-December profit of 301.6 billion yen ($2.7 billion), up dramatically from 131.7 billion yen a year earlier.
The tax reforms under President Donald Trump are a boost for Japanese automakers.
The company said quarterly sales fell 2 percent to 2.88 trillion yen ($26 billion).
Nissan acknowledged last year that unauthorized workers were routinely conducting inspections. The faulty inspections affected only vehicles sold in Japan, not exports, but an investigation found the dubious inspections were systematic and had been going on for years.
Nissan, allied with Renault SA of France and Mitsubishi Motors Corp. of Japan, recalled more than a million vehicles in Japan for further inspections.
Nissan executives have repeatedly apologized for the scandal, and some executives have returned some of their pay.
But the company has also been eager to put the scandal behind it and Nissan sales are doing well in other parts of the world.
When combined with its allied partners, Nissan is one of the biggest automakers in the world, rivaling Volkswagen AG of Germany and Toyota Motor Corp. of Japan.
Nissan, which also makes the March subcompact and Infiniti luxury models, lowered its vehicle sales forecast for the fiscal year through March by 50,000 units to 5.78 million vehicles.
Nissan is benefiting by being a leader in pure electric vehicles. It started selling the Leaf electric car in 2010. The Leaf is one of the first affordable mass-produced electric vehicles available to regular consumers.
The interest in going electric is growing because China, a huge auto market, is pushing automakers to develop EV technology and encouraging sales with subsidies. Automakers also face quotas in China that require electrics to make up at least 10 percent of their sales starting next year.
Nissan announced earlier this week it's developing 20 electric vehicles as part of a $10 billion, five-year investment program with its Chinese partner Dongfeng Group.