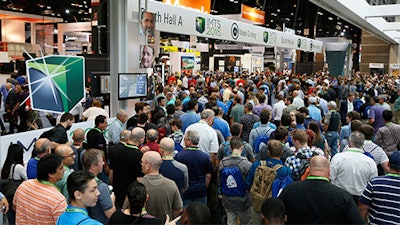 Registration is now open for IMTS 2018 – The International Manufacturing Technology Show. Manufacturing professionals across the globe will gather at Chicago's McCormick Place, Sept. 10-15, 2018, seeking technologies and innovations that will give their organization a competitive edge.
As of January, 1,803 exhibitors have secured a total of 1,307,230 sq. ft. of exhibit space, which is ahead of the previous show numbers (1,455 exhibitors occupying 1.27 million sq. ft.) at this time.
"With the U.S. manufacturing sector expanding at its fastest pace since 2004 and capital equipment investment likely to follow, we anticipate that IMTS 2018 will be one of the busiest shows ever," says Peter R. Eelman, Vice President – Exhibitions & Business Development at AMT – The Association For Manufacturing Technology, which produces IMTS.
Eelman notes that the December 2017 Purchasing Managers Index (PMI) registered 59.7 percent, an increase of 1.5 percentage points from the November reading of 58.2 percent, which is well above the PMI of 50 that indicates economic expansion.
Further, U.S. cutting tool consumption continued to grow year-to-date in November 2017, showing gains of 8.2 percent compared to the same point in 2016 according to data compiled by the latest Cutting Tool Market Report, a collaboration between AMT and the U.S. Cutting Tool Institute.
"In a growing economic environment, more manufacturers attend IMTS," says Eelman.
Expanding Venues
IMTS 2016 was the third largest in number of registrations (115,612) and in net square feet of exhibit space (1,370,256). This show hosted the highest number of exhibiting companies ever (2,407).
Anticipating a stronger show in 2018, IMTS worked with McCormick Place to expand exhibit space, including securing E Hall (see Floor Plan).
Located on Level 2 of the East Building, E Hall has been a successful part of IMTS's history, providing easy and prominent visitor access and steady, fluid traffic throughout the show. For IMTS 2018, E Hall will house the Machine Components/Cleaning/Environmental Pavilion and Tooling & Workholding Annex.
For IMTS 2018, Hannover Messe USA and its four co-located shows will expand into the E Hall. New for IMTS 2018, Hannover Messe USA will feature a digital factory display.
Because of its rapid growth, the highly popular Additive Manufacturing Pavilion has been relocated to the West Building and will include a second Additive Emerging Technology Center (ETC). The original AMT Emerging Technology Center will remain at the entrance to the North Building.
For IMTS 2018, Modern Machine Shop's (MMS) Top Shops and Today's Technology Center (TTC) will flank the ETC, creating an emerging and top technology destination in one of the show's most prominent locations.
IMTS welcomes and supports international visitors with special offers including free admission, selected hotel shuttle service, and an international lounge on show site.
Online visitor registration is now open and early registration is highly recommended for visa registration.