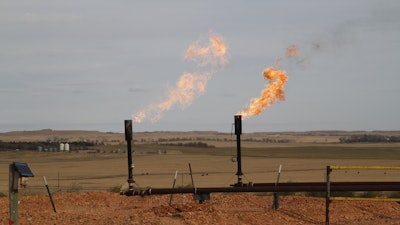 BISMARCK, N.D. (AP) — A $150 million natural gas processing plant is planned in western North Dakota, bringing to four the number of projects proposed to capture more of the record volume of gas that is coming as a byproduct of the state's oil production.
New York-based Hess Midstream Partners LP and Houston-based Targa Resources Inc. announced the Little Missouri Four gas plant Thursday, two days after Republican Gov. Doug Burgum called for more gas-gathering and processing facilities to help control the amount of natural gas that's being burned off at well sites and wasted.
North Dakota's gas-gathering and processing capability is 2.1 billion cubic feet (0.06 billion cubic meters) daily. In November, the latest figures available, the industry was right at that ceiling — with a record 2.09 billion cubic feet (0.06 billion cubic meters) of natural gas produced daily.
The Little Missouri Four gas plant is scheduled to be completed in the fourth quarter of this year and will process 200 million cubic feet daily at an existing facility owned by Targa, the companies said in a statement. An additional $100 million for new pipeline infrastructure to gather gas for the processing plant is planned, they said.
A permit application had not been filed with the state as of Thursday morning.
North Dakota Pipeline Authority Director Justin Kringstad said the addition of the new plant and other projects proposed in western North Dakota by Oneok Inc., Crestwood Midstream Partners, and Oasis Midstream Services will increase the states gas-gathering and processing capability by 615 million cubic feet daily.
All of the projects are expected to come on line within the next two years and should keep pace with expected oil production until 2020, Kringstad said.
North Dakota set rules in 2014 that allow regulators to set production limits on oil companies if gas-caputuring targets aren't met. Companies that fail to meet the goals could have production limited to as little as 100 barrels a day per well, depending on the amount of gas flared.
The rules that were adopted by the state and endorsed by the industry now require oil companies to capture 85 percent of the gas, rising to 90 percent by 2020. The rules were adopted after as much of a third of the gas went up in smoke, drawing criticism from environmentalists and many residents who said the state was losing revenue from the wasted gas, and that it contributed to unnecessary carbon dioxide emissions.
Industry and state officials said last week that some North Dakota oil drillers already have begun cutting output to control the amount of natural gas flared. And on Wednesday, the North Dakota Industrial Commission, a three-member panel headed by Gov. Burgum, denied Marathon Oil's request for several exemptions from the state's flaring restrictions for several oil wells until more infrastructure is built.