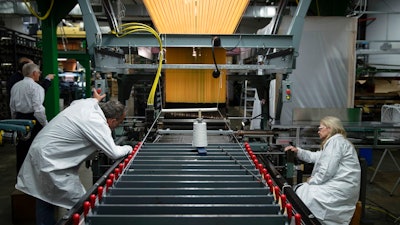 AP file
WASHINGTON (AP) — The Federal Reserve says U.S. industrial production rose 0.9 percent in December, pulled higher by a surge in utility output, another sign of health for the American economy.
Utility production shot up 5.6 percent last month, the most since March 2017, as a severe cold snap hit the East and Midwest at the year's end. Manufacturing output edged up 0.1 percent, the fourth straight monthly increase, helped by a healthy uptick in production of cars, trucks and auto parts. Mining production rose 1.6 percent, largely because of an increase in extraction of oil and natural gas.
Overall industrial production — including manufacturing, mining and utilities — rose 3.6 percent over the past year. It was the best annual performance since 2010.
The U.S. economy is looking healthy. Growth clocked in at a 3.2 percent annual pace from July through September after growing 3.1 percent in the second quarter. Unemployment is at a 17-year low of 4.1 percent. Factories added 196,000 jobs last year, the most since 2014.
Industrial production picked up at the end of 2017 after being held down by the impact of Hurricanes Harvey and Irma. American industry was running at 77.9 percent of capacity last month, the highest since February 2015.