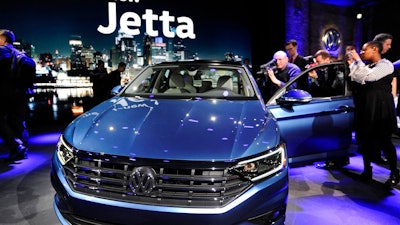 AP Photo/Jose Juarez
FRANKFURT, Germany (AP) — German automaker Volkswagen had record sales of 10.74 million vehicles last year, but saw its bid to keep the title of world's largest carmaker reportedly disputed by the rival Renault Nissan Mitsubishi alliance.
Volkswagen sales rose 4.3 percent from 10.30 million in 2016, when Volkswagen passed Japanese rival Toyota to become the globe's largest auto producer for that year.
The figures show the Wolfsburg-based company continuing its effort to move past a scandal that broke in September 2015 over cars it had rigged to cheat on diesel emissions tests. Sales last year were boosted by a strong December, when sales rose 8.5 percent. For the year, the company saw big jumps in Russia and Brazil, and significant gains in China and the United States.
"We are thankful for the trust of our customers," CEO Matthias Mueller said in a statement.
Carlos Ghosn, chairman and CEO of the Renault-Nissan alliance which includes Mitsubishi, told a committee of the French National Assembly that his group was the world's biggest with 10.6 million vehicles last year, the French business publication Les Echos reported. Ghosn said that 200,000 of Volkswagen's vehicles were trucks that should not count.
Toyota estimated in December that it sold 10.35 million vehicles last year. Final figures are expected around the end of January or the beginning of February.
None of the companies sets as a goal to be the world's largest auto maker, though Ghosn was quoted as saying it was "a satisfaction."