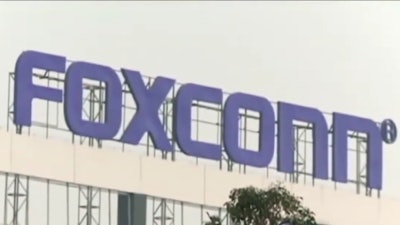 MOUNT PLEASANT, Wis. (AP) — A dozen homeowners living near the Wisconsin site for a massive Foxconn Technology Group complex are going to court to try to stop efforts to forcibly take their land.
The property owners say the community where the plant is to be located, the Village of Mount Pleasant, is violating their constitutional rights by incorrectly using eminent domain to take their homes. Eminent domain allows the government to take private property for public use with compensation.
The homeowners' attorney, Erik Olsen, said the village claims it's taking the land for public projects, such as roads and utilities, but he says it's the Taiwan-based Foxconn that ultimately benefits. Eighteen acres (7 hectares) the village is acquiring for the Foxconn complex belong to the landowners.
"Property rights are actually one of the most basic rights that we have as Americans, the right to have private property and the right to have that property protected," Olsen said.
The village's attorney, Alan Marcuvitz, says the lawsuit, filed Monday in federal court, won't stop the project.
"We don't believe there is any merit to this lawsuit, and we will provide an appropriate response through the legal system," Marcuvitz said in a statement.
The lawsuit seeks an injunction to block the Foxconn project permanently.
Meanwhile, Foxconn has given four families more time to leave rental properties that it plans to buy to make way for the 22-million-square-foot (2.04-million sq. meter) electronics factory. Instead of the 28 days the tenants were originally given to vacate their homes in the Village of Sturtevant, landlords have given them at least 90 days. One landlord said he was acting on Foxconn's direction.
The Journal Sentinel reported that Foxconn decided to give the families more time to move after a reporter for the Milwaukee newspaper inquired about the eviction notices that upset the families who had to move on short notice.