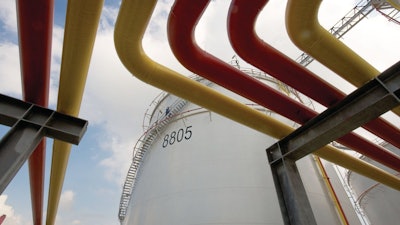 Shell
MONACA, Pa. (AP) — An umbrella group for 140 Presbyterian churches is calling for a halt to construction of a planned $6 billion petrochemical, or ethane cracker, plant in western Pennsylvania.
The Pittsburgh Presbytery, which represents more than 28,000 members of the Presbyterian Church in Allegheny County, says the Shell Chemicals plant in neighboring Beaver County — along with other plants planned for the Ohio Valley — "will be mass producing plastic products" harmful to the environment, the Pittsburgh Post-Gazette reports .
The plant will also increase carbon dioxide emissions and demand for hydraulic fracturing gas wells and pipelines, the group said in a letter approved at a December meeting. At the same meeting, the presbytery also endorsed pulling investments from fossil fuels and due to climate change concerns and urge churches to explore using solar or other renewable energy sources.
"We are part of a faith tradition that has affirmed our responsibility to care for the earth as our home and care for all people, especially our most vulnerable populations," the letter said.
Shell spokesman Michael Marr said officials are disappointed that members didn't meet with them to learn about planned environmental controls and noted that state environmental officials have approved the project.