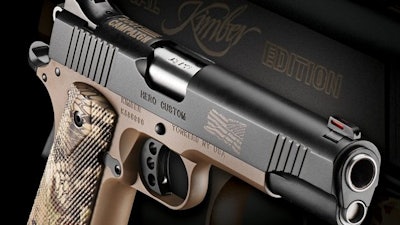 Kimber
TROY, Ala. (AP) — Troy, Alabama is about to get an economic shot in the arm with 366 jobs expected after a leading firearms maker announced it will soon build a facility in the city.
WSFA-TV reports Gov. Kay Ivey's office confirmed Tuesday that Kimber Manufacturing, based in Yonkers, New York, will invest $38 million over the next five years. The facility should be up and running by early 2019.
Ivey says Kimber's investment in Troy will create a significant number of high-paying design engineering and manufacturing jobs.
Kimber's chief operating officer, Greg Grogan, says the company will build a large, automated, state-of-the-art design engineering and manufacturing facility in Troy to support Kimber's strategic growth plans.
Mayor Jason Reeves says the city has a strong manufacturing base and Kimber will substantially add to that foundation.