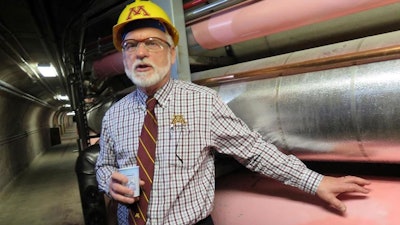 Elizabeth Dunbar/Minnesota Public Radio via AP
MINNEAPOLIS (AP) — A new energy plant at the University of Minnesota is designed to be efficient and save the university about $2 million in utility costs.
The new Main Energy Plant is a combined heat and power plant located on the Mississippi River bank, Minnesota Public Radio reported. The plant can generate up to 22 megawatts and is 83 percent efficient.
"We're very proud of that," said Jerome Malmquist, the university's energy management director. Most stand-alone power plants are less than half as efficient, he said.
Hot air coming off of a natural gas or fuel-powered jet engine spins a turbine that generates electricity. Heat is then captured and used to make steam that heats buildings throughout campus, including a hospital, lecture halls and sports arenas.
The university worked with Xcel Energy to create the plant, Malmquist said. The university was looking for ways to save money on utilities while also making campus more prepared for power outages, he said.
While the plant doesn't produce enough electricity to power all of campus during an outage, it will prioritize providing power to hospitals and sensitive research.
The university expects the new plant to reduce carbon emissions by 10 to 13 percent.
Minnesota has more than 50 combined head and power facilities, but most are small, according to the Department of Energy.
Clean energy advocates have been supportive of combined head and power projects in the state.
"Minnesota should invest in least-cost renewables and maximize that in our state," said Will Nissen, director of energy performance at Fresh Energy. "Where projects are feasible and the sites make sense, combined heat and power projects should move forward."