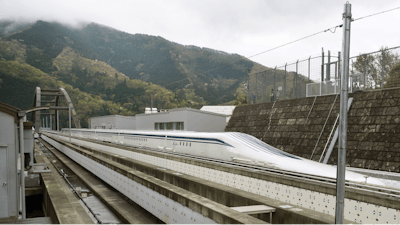 Katsuya Miyagawa/Kyodo News via AP, File
TOKYO (AP) — Prosecutors have raided the headquarters of four of Japan's biggest construction companies, investigating alleged collusion on bids for a multibillion dollar maglev railway that Prime Minister Shinzo Abe's government has backed as a showcase project.
TV news reports Tuesday showed dark-suited investigators from the Tokyo District Public Prosecutors Office heading into the headquarters of Taisei Corp. and Obayashi Corp., two of four companies targeted in the probe.
Shimizu Corp. and Kajima Corp., the two others, issued statements Tuesday acknowledging the raids.
Kajima said it conducts training focused on preventing bid rigging.
"This situation grieves us extremely, and we deeply apologize to all involved from the bottom of our hearts," it said.
Obayashi responded to a request for comment on reports it had admitted to the bid rigging by saying the company could not give further details because it was under investigation.
All the contractors have promised to cooperate fully with the investigation into the alleged violations of anti-trust laws. Reports said prosecutors are looking into alleged "obstruction of business" because the contracts for the line, called the Linear Chuo Shinkansen, are for private-sector, not public contracts.
The $80 billion magnetic levitation, or maglev, railway between Tokyo and the central Japanese city of Nagoya is a decades-long project that is expected to reduce travel time between the two cities to 40 minutes from the current 100 minutes once it opens in 2027. The line is due to be eventually extended to the western city of Osaka.
Work is being carried out mostly by joint ventures led by the four builders, who are alleged to have colluded to coordinate bidding and ensure each won a similar share of related construction contracts.
The project at the center of this scandal is for construction of an emergency exit for the maglev at Nagoya station.
Bid-rigging remains entrenched in Japan's construction sector and other industries, despite repeated efforts to crack down and pledges by contractors to eliminate the practice.
The anti-monopoly Japan Fair Trade Commission allows leniency for companies that come forward and admit they have engaged in bid rigging or similar practices. The first company in a case to come forward generally is granted full immunity from fines.