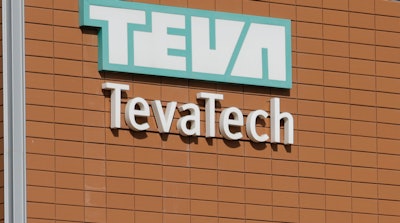 AP Photo/Tsafrir Abayov
JERUSALEM (AP) — Teva Pharmaceutical Industries Ltd., the world's largest generic drugmaker, on Thursday said it would lay off 14,000 workers as part of a global restructuring meant to salvage its ailing business.
The company said the layoffs represent over 25 percent of its global workforce. The job cuts are to occur over the next two years, with most expected in 2018. The restructuring is expected to cut costs by $3 billion by the end of 2019.
In a letter to employees, Chief Executive Kare Schultz said the restructuring is "crucial to restoring our financial security and stabilizing our business."
"We have no time to waste," he said. "We are flattening our organization both top down and sideways, with fewer layers of management and increased accountability. This will ensure better integration, improve productivity and efficiencies, and reduce our cost base."
Teva's bottom line has been hit by the expiration of patents on Copaxone, its flagship drug for multiple sclerosis; pricing pressure on its core generics business; and a $35 billion debt load taken on in its acquisition of the generics business of Allergan. It also has suffered from turnover and instability in its senior management ranks.
Teva's stock has skidded nearly 60 percent this year.
Schultz said the restructuring would include changes in the generics portfolio, both through price adjustments and product discontinuation. He said a "significant number" of research and development facilities would be closed or divested, and there will be a "thorough review" to prioritize core projects, cancel others and maintain a pipeline of new products. Teva, for instance, recently began marketing a generic version of the blockbuster drug Viagra.
Annual bonuses for 2017 also will not be paid.
Schultz's letter said the layoffs would affect all businesses and regions for a company that employs some 56,000 people worldwide. The company's Israeli headquarters are expected to be significantly affected, but no details were immediately available. Affected employees are expected to be notified within 90 days.
"Making workforce reductions of this magnitude is difficult, and we do not take them lightly," Schultz said. "However, there is no alternative to these drastic steps in the current situation."
Schultz said the company will be "respectful and transparent" and work closely with employee representatives and unions. Israeli representatives have already threatened to strike.
Israeli Prime Minister Benjamin Netanyahu's office said that he called Schultz ahead of the announcement to express his concerns. It said he asked Schultz to do his utmost to protect Israeli jobs, especially in poorer outlying areas, and to maintain the company's Israeli identity. Teva has roughly 7,000 Israeli employees, making it one of the country's largest private sector employers.