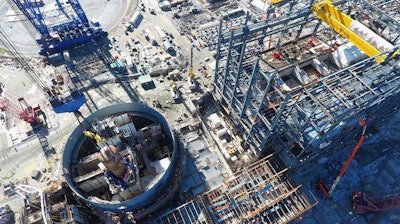 SCE&G
COLUMBIA, S.C. (AP) — The parent company of South Carolina Electric & Gas Co. is offering the site of a failed nuclear reactor project to the state-owned utility Santee Cooper.
SCANA has proposed giving the Fairfield County site to Santee Cooper so the project could be preserved and perhaps finished at some point in the future, The State newspaper reported.
SCE&G and Santee Cooper abandoned their joint effort July 31 after spending more than $9 billion, both blaming the failure on the bankruptcy by principal contractor Westinghouse. SCE&G customers have been charged nearly $2 billion toward interest on the company's debt, via a series of rate hikes since 2009, without any power being generated.
That amounts to about $27 per month for each ratepayer, charges that continue despite the project's failure. SCE&G has proposed reducing that cost by about $5 a month, but that would have to be approved by state regulators.
SCANA's proposal was contained in a Dec. 4 letter obtained by the newspaper.
The newspaper reported in Sunday's edition that choosing not to preserve the site is part of SCANA's strategy to show the Internal Revenue Service it has abandoned the effort and deserves a $2 billion tax write-off.
SCANA could decide later this week to surrender the federal license for the project. Giving up the operating license would be another way to show the utility should be eligible for the tax write-off.
Getting the tax write-off would help pay down the nearly $5 billion in construction costs that SCANA has paid for the project.
SCANA owns 55 percent of the project and Santee Cooper owns 45 percent. The two utilities operate an existing reactor at the site that was completed more than 30 years ago. That operation is not affected by the discussions about how to handle the failed expansion project.
Santee Cooper already owes about $4 billion for the failed project.
The state-owned utility said it doesn't know how much it would cost to protect valuable components for the abandoned Units 2 and 3, hire security staff and pay workers to occasionally operate machinery that might otherwise rust over.