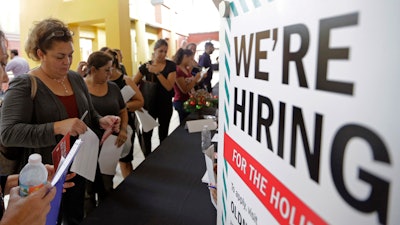 AP Photo/Alan Diaz
WASHINGTON (AP) — U.S. businesses added a robust 190,000 jobs in November, according to a private survey, a sign that hiring is strong enough to reduce an already-low unemployment rate.
Payroll processor ADP said Wednesday that last month's hiring followed an even larger gain of 235,000 in October. Some of October's job increase reflected a bounce-back from hurricane effects, which lowered hiring in September to just 96,000.
Manufacturers helped drive the increase, adding 40,000 jobs, the largest gain this year, ADP said. Health care added 31,000 positions, and a category that includes restaurants and hotels hired 25,000.
Job gains at last month's pace should, over time, lower the unemployment rate, which is currently at a 17-year low of 4.1 percent.