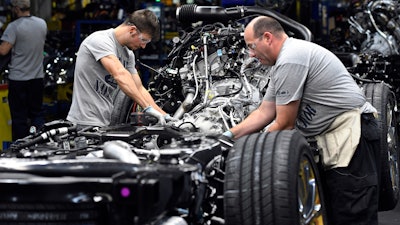 AP Photo/Timothy D. Easley
WASHINGTON (AP) — U.S. industrial production jumped a solid 0.9 percent in October as factory activity recovered from the impact of Hurricanes Harvey and Irma.
The Federal Reserve said Thursday that manufacturing activity surged 1.3 percent last month. Many of the gains came from a sharp increase in the production of chemical and petroleum and coal products. Motor vehicles and metals also posted decent gains.
Mining activity slipped 1.3 percent in October as Hurricane Nate caused a brief decline in oil and gas drilling. Production at utilities rose 2 percent.
Over the past year, industrial production has increased 2.9 percent.
The Fed report is among the many indicators that factories are roaring back in recent months.
Over the past year, manufacturers have added 156,000 jobs. That's the strongest annual growth since the middle of 2015.
Manufacturing hit a rough patch roughly two years ago when a strengthening dollar hurt exports and falling energy prices led to fewer orders for pipeline and equipment. But manufacturing has been steadily rebounding this year amid a stronger global economy.
The Institute for Supply Management, a trade group of purchasing managers, said recently that its manufacturing index dipped to 58.7 in October from a 13-year high 60.8 in September. Anything above 50 signals that U.S. factories are expanding. Manufacturers have reported expansion for the past 14 months.