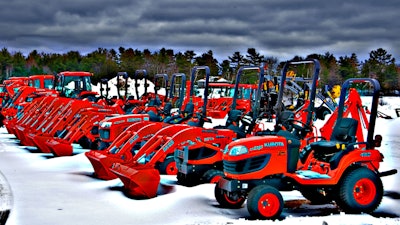 Kubota Tractor Corporation has confirmed plans to construct its North American Distribution Center (NADC) in Edgerton, Kansas. The company announced a deal to acquire 203 acres near their current facility earlier this week. Kubota will design and build dual one million square foot facilities in an effort to expand distribution capacity and streamline logistics processes.
"After more than two years of operating in Kansas with such positive results, we are now confident about building more infrastructure here," said Masato Yoshikawa, president and CEO of Kubota Tractor Corporation. "We've had access to an excellent workforce in the area and we've built a quality team; together, we've achieved operational efficiencies to better serve our dealers and customers."
In addition to the logistics facilities, Kubota also announced it will be establishing a fifth operational division and sales office in Edgerton. The new Midwest Division office will reside within the same complex as the parts and whole-good operations. Mike Jacobson, a 17-year Kubota veteran, will be appointed as director and division manager of this new division effective January 1, 2018.
Kubota currently employs 150 workers in Edgerton, and the expansion could add another 150-200. In late 2016, the company announced the 617,000 square foot expansion of its National Distribution Center (NDC) in Jefferson, Georgia. Jointly, the NADC in Kansas and NDC facility, located near Kubota's manufacturing operations and their Southeast Division in Georgia, have strengthened Kubota's distribution capacity and infrastructure in North America to support its growth.
Kubota is a Japanese company with U.S. operations based out of Grapevine, Texas. The company's products include tractors, farming implements, compact and utility-class construction equipment, consumer lawn and garden equipment, hay tools and spreaders, commercial turf products and utility vehicles.