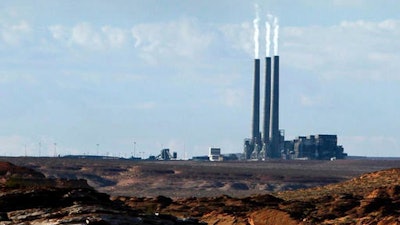 AP Photo/Ross D. Franklin, File
FLAGSTAFF, Ariz. (AP) — A coal mining company looking to save the Arizona power plant it feeds says it's making progress in the search for new owners.
But few details came as a deadline passed Sunday to identify potential owners for the Navajo Generating Station near Page.
Peabody Energy spokeswoman Beth Sutton said Monday that private equity firms and power plant operators are interested. She wouldn't say who or how many, citing confidentiality agreements.
The power plant on the Navajo Nation is set to close in 2019 unless someone buys it. The current operator, the Salt River Project, says energy produced by natural gas is cheaper.
Lease negotiations with the Navajo Nation and environmental reviews could take years. And the environment for coal is tough with utilities increasingly switching to other power sources.