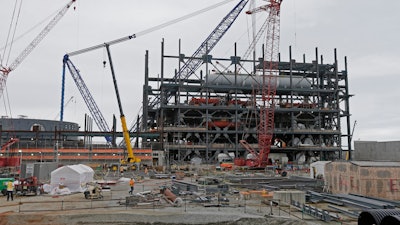 AP Photo/Chuck Burton, File
COLUMBIA, S.C. (AP) — State police on Tuesday announced an official probe into "potential criminality" on the part of one of the co-owners of a multibillion-dollar nuclear construction project whose failure cost thousands of people their jobs.
Meanwhile, an opinion from one of South Carolina's top prosecutors called a state law used by utilities to raise customers' rates to fund the now-defunct project "constitutionally suspect." And the utilities that abandoned the project at V.C. Summer Nuclear Station north of Columbia are considering selling their $2 billion, five-year settlement for a one-time payment to guarantee they'll collect some money.
Top state lawmakers, including House Speaker Jay Lucas, had asked state police to probe "potential criminality" on the part of South Carolina Electric & Gas Co. and parent company SCANA in the project's failure. On Tuesday, state police spokeswoman Kathryn Richardson confirmed to The Associated Press the agency had received lawmakers' request and was "going to investigate exactly what the Legislature asked us to."
SCANA spokesman Eric Boomhower said the utility will "cooperate fully" with the state police investigation.
Attorney General Alan Wilson's office has also asked state police to investigate the overall project. Federal authorities have subpoenaed documents from both utilities, and a half-dozen lawsuits have been filed in state and federal court.
In a legal opinion released Tuesday by Wilson's office, Solicitor General Bob Cook wrote that the Base Load Review Act "fails to strike the constitutionally required balance between investors and ratepayers" and also "denies ratepayers procedural due process."
A bipartisan trio of lawmakers recently asked prosecutors to study the 2007 law, which allows utilities to both collect money from customers to finance a project before it generates power and recoup their debt even if it's never completed. The law has come under intense scrutiny by both ratepayers and lawmakers who say it was used to recklessly increase customers' bills for a tenuous project.
SCE&G used the law to repeatedly get state regulators' approval to raise rates to fund the reactors' construction. After spending nearly $10 billion, SCE&G and state-owned utility Santee Cooper, the project's 45 percent owner, scuttled it in July following the bankruptcy several months earlier of lead contractor Westinghouse, a decision that left nearly 6,000 people jobless.
By that point, the companies had charged customers more than $2 billion to fund interest on the project's debt. Santee Cooper has increased rates five times to pay for the escalating costs, but the Public Service Commission has no authority over the state-owned utility. The shuttered project accounts for 18 percent of SCE&G's residential electricity bills and more than 8 percent of Santee Cooper's.
In August, SCE&G asked regulators for permission to recoup its $5 billion debt, with at least $2.2 billion coming from customers. It withdrew that request amid legislative hearings, but executives have said they will submit another one eventually.
In his recently released opinion, Cook wrote that the law "further rewards abandonment of nuclear projects such that ratepayers must pay the utility's costs plus a substantial rate of return for investors without receiving any service from the plants."
Attorney general's opinions carry no legal heft of their own but generally represent the position of the state. The state Supreme Court rejected conservationists' 2014 challenge to the law, ruling that it allowed SCE&G to raise customers' rates to fund the reactors.
The makeup of the court has since changed, so it's unknown if the current justices would rule the same way.
Also on Tuesday, Santee Cooper Chairman Leighton Lord said the state-owned utility and SCANA are evaluating "lots of proposals" to monetize their settlement with Japanese electronics giant Toshiba, the parent company of Westinghouse.
The settlement, signed days before the utilities halted construction, provides $1.2 billion to SCE&G and $980 million to Santee Cooper. The first payments are due next month and set to continue through September 2022.
But Toshiba's ability to pay has been questioned.
Santee Cooper board members declined to provide details about the proposals, other than to say they differ on the percentage of the settlement offered upfront.
"We will evaluate whether the price they're going to pay in relation to the risk is worth it," Lord said. "Nothing's for sure."
The utilities could get better terms if they sold their shares together, but separate decisions are possible, he said.
Executives of both utilities say they intend to use the money to prevent more rate hikes.
Santee Cooper's board is set to meet Wednesday. When SCANA will consider it is unclear. A SCANA spokeswoman said the private utilities' meetings are not publicized.