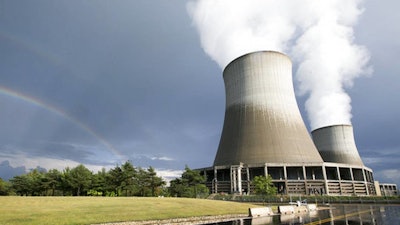 Rockford Register Star via AP Arturo Fernadez
BYRON, Ill. -- Whenever he sees Exelon's twin nearly 500-foot tall cooling towers gusting water vapor, 7-year-old Evan Northrup mentions to anyone who will listen "they're making the clouds."
On Aug. 28, the little guy got a closer look at the nuclear plant's operation.
As part of Exelon's annual open house, he visited the plant's maintenance shops, training labs and simulator housing control boards with many dials, gauges and switches.
"It's like a big factory," the child said, his eyes wide.
About 500 people signed up to tour the Byron Generating Station's training center. The most inquisitive asked questions of plant employees and technical experts wearing green. Children also tried on protective clothing that included rubber gloves, shoe covers and hoods.
Since 1985, the plant and its two units have been supplying electricity for more than two million homes. This year's open house had more presenters and information to recognize Unit 2's 30th anniversary. Each unit has a reactor producing power for about a million homes.
"It's really been nice seeing all these people ... from the local community that have come out to see what we do here," Plant Manager Patrick Boyle said. "It is a clean energy source. We need to keep reminding people that it's clean energy. It's cleaner than coal, cleaner than gas. I think there will be some people who always have some reservations. We like to be a good neighbor and this open house has really been successful."
He said the plant has never experienced a release of radioactivity.
Carol DeWall can't help but worry. She took notes regarding the spent fuel stored in 32 casks on the 1,782-acre property. The elderly woman remembers going to hearings before plant construction began in 1975.
She had concerns then, and she has concerns now.
"I see the two towers, and I wish I didn't live so close," said DeWall, who lives near Forreston.
She lingered in rooms with on-screen presentations and information booths that explained nuclear energy and its economic benefits, which include infusing $9 billion into the state's economy every year and $290 million worth of state and local tax revenue, according to Exelon.
She also hovered near a station where children tried on the type of protective clothing one would wear if risking contact with flammables and contaminants.
"That was fun," said 8-year-old Andreea Mihai of Rockford. "That would be nice to wear to school during the winter."
For Ryan Scudder, the tour was a bit of a homecoming. The Byron resident's father once was Exelon's control room operator. When he was a child, his dad would show him around the actual control room.
"You can't even get close to (the real control room) anymore," he said. "It was cool."
Ken Harrison, a senior reactor operator, assured Scudder he was correct in thinking the modern day control room is more dependent on digital technology.
Exelon instructor David Riegler loves when both children and adults learn more about his place of work. Younger children have basic questions about the nuclear plant. Teens have questions about job opportunities. Professions on a nuclear plant campus include administrative, maintenance, security, computers and engineering.
"One of the neatest things ... is having them learn about the nuclear power industry, seeing how safe it is," he said. "They get to see how reliable the energy is. There's a lot of things that everybody gets to pick up."