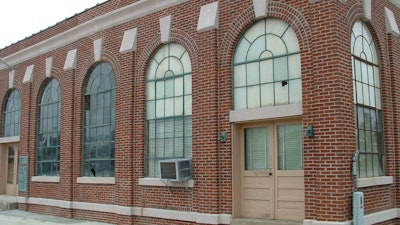 Help Us Save the Power Plant
PARAGOULD, ARK. -- A historic industrial property in downtown Paragould is on the market after years of deterioration and neglect.
The city's original power plant, which Paragould Light, Water and Cable reacquired in July, was slated for demolition until local residents and Main Street Paragould stepped in and asked to find a buyer interested in renovating the space.
"It's a great building," Main Street Paragould Director Gina Jarrett said. "The property is going to need someone with imagination and appreciation for these types of projects, though. It needs everything right now."
The 10,000-SF main edifice was built along the city's railroad tracks and served as a 24-hour dispatch center until 1990. The 0.93 acre property, which includes three smaller structures, also housed Paragould's generators and waste water treatment facility until 1997, according to PLWC General Manager and CEO Darrell Phillips.
Although the original equipment has since been sold, the city's historic curfew whistle, which hearkened Paragould's youth home around 10 p.m. each night, still resides in town.
Arkansas Business reports that the municipally-owned utility sold its original headquarters to a local business owner in 2004 with the intention of turning it in to a restaurant. The property found two more owners over the next decade and functioned mainly as a storage facility until a fire badly damaged part of the brick building in 2013. The blighted property has since been a center of mischief and shelter for transients.
Paragould Light, Water and Cable paid a reported $54,500 to regain ownership and immediately began cleaning up the property. Main Street Paragould has until Jan. 31, 2018 to find a buyer. While the asking price is meant to recoup the city's purchase of the property and cleanup costs, interested parties must be able to present a plan, timeline and proof of financials for the space.
"Our goal is to find a buyer that wants to contribute to the revitalization of downtown," Phillips said.
A Facebook page called "Help Us Save the Power Plant" has emerged to boost support for the project with idea posts like a brewery, event venue, bowling alley and co-working office space.
"We're in a place that could support a project like this now because we appeal to a variety of people," Jarrett said. "We have very few vacancies downtown because of the success of our local boutiques, service businesses and eight restaurants."
Jarrett said that although renovations will be costly, the structure already has access to nearby, city-owned parking, and that grants and historic tax credits might be available to ease renovation costs. Main Street Paragould and the Arkansas Historic Preservation Program will host a forum on Aug. 28 to answer questions about the project.