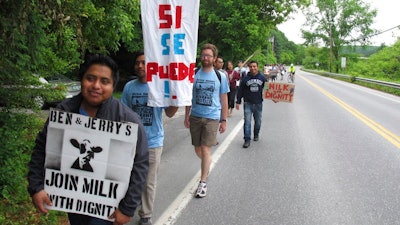 AP Photo/Wilson Ring
ST. ALBANS, Vt. (AP) — Protesters are showing support for two immigrant dairy farmers arrested after marching to a Ben & Jerry's factory to call for better pay and living conditions on farms that provide milk to the ice cream maker.
The Vermont Department of Corrections said Monday that 19-year-old Yesenia Hernandez-Ramos and 26-year-old Esau Peche-Ventura, both from Mexico, are being held on immigration charges. They were arrested Saturday night while returning to the farm where they live and work in Franklin County.
A U.S. Border Patrol spokesman tells Vermont Public Radio (http://bit.ly/2siOt4h) they were stopped in a routine patrol check a few miles away from the U.S.-Canada border.
Protesters were outside a correctional facility and a U.S. Immigration and Customs Enforcement office.