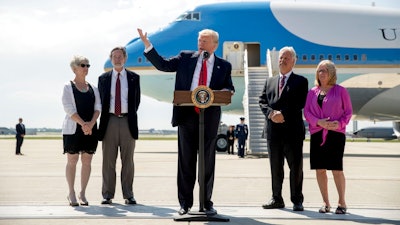 AP Photo/Andrew Harnik
President Donald Trump says he wants every high school in America to offer apprenticeship programs.
Trump also says at a round table conversation at Waukesha County Technical College in Wisconsin that he loves the "name Apprentice" — a reference to the reality television show he used to host.
The round table includes students, local CEOS and officials including the superintendent of the Waukesha School District.
Trump also took a tour of the school that included a stop at a classroom filled with tool and die machines. He's with his daughter, Ivanka Trump, Labor Secretary Alex Acosta and Wisconsin Gov. Scott Walker.
The White House says apprenticeships could match workers with millions of open jobs. But the administration is reluctant to devote more taxpayer money to the effort.