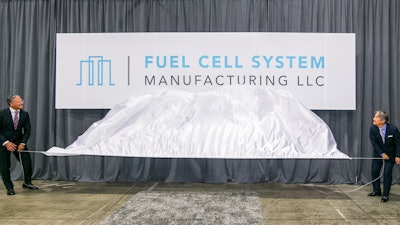 John F. Martin, General Motors & Honda
Fuel Cell System Manufacturing LLC (FCSM), the joint venture company established by General Motors and Honda for the production of advanced hydrogen fuel cell systems, yesterday revealed its company logo at an event where local elected officials were recognized for helping bring the operation to metro Detroit.
Announced on Jan. 30, 2017, FCSM is the auto industry's first joint venture formed to mass-produce hydrogen fuel cell systems. Production is expected to begin around 2020 with the output shared by Honda and GM, which will then use the systems separately in their respective products.
The plant, located in the same facility as GM's battery pack manufacturing operation, is expected to create about 100 new jobs by the time it is in full operation.