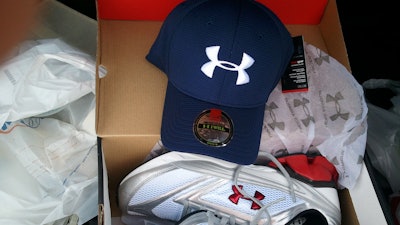 Flickr
NEW YORK (AP) — Under Armour will take over from Majestic Athletic as the supplier of Major League Baseball uniforms in 2019, a year earlier than previously scheduled.
Fanatics Inc. and MLB announced an agreement in December that gave the company licensing rights to manufacture and distribute merchandise starting in 2020. Fanatics signed a deal last month to buy VF Corp.'s Licensed Sports Group and with it the 600-worker Majestic Athletic plant in Easton, Pennsylvania, where team jerseys and fan apparel are manufactured.
Baseball Commissioner Rob Manfred said Thursday that fan merchandise from Under Armour will be available next year and that Under Armour will be used for dugout clothing during the 2018 postseason. The full switch to Under Armour for on-field apparel will take place for the 2019 season.
Majestic has manufactured MLB batting practice jerseys since 1982 and has been the exclusive supplier of game uniforms since 2005. Before that, uniforms were manufactured by both Majestic and Russell.