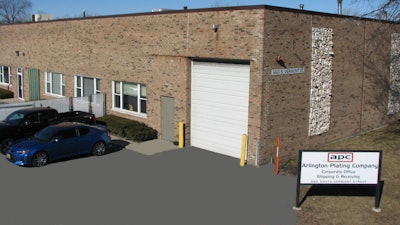 Arlington Plating Company
Arlington Plating Company (APC) has completed a major expansion at its Palatine, IL headquarters that has resulted in enhanced operations and production capabilities.
Specifically, the recent addition of a 35,000 square foot facility substantially grows the company's campus to over 90,000 sq. ft. The expansion enables increased production capacity, as well as new warehouse and shipping space. Corporate, sales and support staffs have been relocated to the new addition.
The expansion coincides with the recent opening of the company's aluminum anodizing line and is essential to meeting customers' current and emerging surface finishing requirements.
Richard Macary, President of Arlington Plating Company, said, "2017 is proving to be an exciting year of growth at APC. The multi-million dollar investment made to our facilities tangibly demonstrates our commitment to advancing new products and services for our customers."
APC is an employee-owned company.