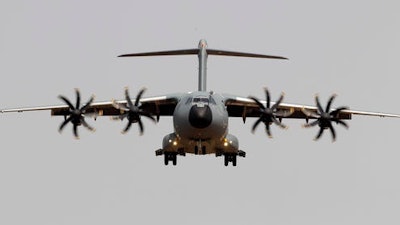 AP Photo/Miguel Angel Morenatti, File
PARIS (AP) — Surprise new costs for the long-troubled Airbus A400M military jet sent the European plane maker's profits plunging last year and will weigh on the company's financial prospects through next year, even as it forecast a rise in aircraft deliveries and demand.
Airbus CEO Tom Enders acknowledged that "the jury is still out on the long-term success" of the A400M, but insisted "it's absolutely necessary" to maintain it as long as European militaries depend on it.
Airbus on Wednesday reported that its profits fell 63 percent in 2016 to 995 million euros ($1.04 billion), from 2.7 billion euros the year before. The company reported 2.2 billion in charges on the A400M in 2016, including a new 1.2 billion-euro hit in the fourth quarter as it reassessed the overall cost of the program.
With governments delaying payments because of A400M delays, Airbus warned that cash problems "will continue to weigh significantly in 2017 and 2018 in particular."
Airbus' commercial plane forecast was more upbeat, after a year that saw a rise in deliveries but a drop in orders. It foresees a rise in deliveries in 2017 to more than 700 planes, up from 688 last year.
Shares in Airbus sank on the earnings report then rallied, trading at 66.81 euros in early afternoon, barely down from Tuesday's close.
Airbus management is holding discussions with governments about reducing further financial blows related to the A400M. Enders blamed the plane's problems on misguided decisions made at the birth of the program in the early 2000s and exacerbated by problems with engine suppliers and delivery delays that led to big financial penalties.
Airbus still forecasts high demand for its popular single-aisle A320 range jets, but are scaling back production of superjumbo A380s amid lower demand than initially expected.
Enders said it is still too early for Airbus to rethink its operations in Britain as it leaves the European Union.
"How can we review it when it's absolutely unclear what will happen?" he asked. Airbus has 15,000 employees in Britain, making airplane wings and space equipment for planes made across Europe.
"We are watching this space, like other industries, and we obviously hope that no additional barriers will be directed or will interfere with the competitiveness of Airbus," he said.
He also played down concerns about possible U.S. protectionism under President Donald Trump. Noting that Airbus has an assembly plant in Alabama, other plants opening soon and suppliers across the U.S., he said, "I feel pretty good about ... our contribution to the U.S. economy."
Airbus' chief rival, Boeing Co., beat expectations for fourth-quarter profit despite a slump in revenue from its defense business, and it also forecast a rise in deliveries of commercial jets in 2017.