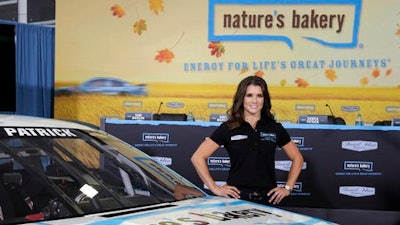 AP file
DAYTONA BEACH, Fla. (AP) — Nature's Bakery vowed Thursday to fight Stewart-Haas Racing in court, saying it wouldn't be bullied by one of NASCAR's top teams over a $31 million breach-of-contract lawsuit filed in a sponsorship dispute involving driver Danica Patrick.
The Reno, Nevada-based food company, one of the smallest primary sponsors in NASCAR, severed its sponsorship agreement with SHR and Patrick after the first year of a three-year deal. SHR responded with a scathing lawsuit in which it accused Nature's Bakery of having cash-flow issues and concocting reasons for pulling out.
Nature's Bakery CEO Kelly Allin said the company was "thrown off by SHR's lawsuit" and had plans to meet in Charlotte, North Carolina, days before the suit was filed.
"Contrary to its image, SHR is run by big-business types that took advantage of Nature's Bakery," Allin said. "They now are threatening scorched-earth litigation against a multi-generational family company. We're obviously not going to let them bully us. We may be a small brand, but we do not think what they are doing is right. We look forward to defending ourselves in court."
Nature's Bakery said it will file a detailed response and counterclaims shortly that will "shed light on SHR's conduct both during the race season and after."
"They can file whatever they want. We're confident with our position," said SHR president Brett Frood.
One of SHR's particularly nasty allegations was that Nature's Bakery had recurring mold issues with its bars, which contributed to financial problems. SHR also alleged its own employees were forced to remove moldy bars from inventory that was slated for marketing efforts at races.
SHR also said Nature's Bakery repeatedly asked for modified payment schedules and then missed payments. SHR said the company devised "a scheme to avoid further payments" by claiming Patrick had been endorsing competing products and was not using her social media presence enough to promote Nature's Bakery.
Initially, the pairing with Nature's Bakery was a natural fit for Patrick because she heavily promotes a healthy lifestyle and clean eating. She has started a fitness program that will be turned into a book, has launched an active-wear clothing line and uses her social media channels to encourage fans with recipes and workouts.
Patrick has also promoted Nature's Bakery on social media, and has claimed she ate the fig bars before she was partnered with the company.
But, according to the lawsuit, Nature's Bakery took issue with Patrick using Instagram to promote Six Star Pro Nutrition Protein Powder, Purely Inspired Protein, home-made energy balls, a homemade spinach smoothie and various other home-cooked meals ranging from ice cream to grilled cheese.
SHR maintains none of those products is in competition with fig bars or brownies, and that Nature's Bakery "liked" most of the Instagram posts. An exhibit filed with the suit includes numerous Patrick photos from Instagram that show Nature's Bakery had "liked" the post.
"By 'liking' Danica Patrick's various posts regarding protein powder and homemade food items, Nature's Bakery's public endorsement of those posts was open for the entire world to see," the suit alleges.
SHR claimed Nature's Bakery never complained about the Instagram posts until it began missing payments.
"Nature's Bakery is in material breach of its contract," Frood said. "It's an unfortunate situation, but we know we've delivered on all aspects of our agreement and more. We took great pride in elevating the brand awareness and relevance of its products and were prepared to continue activating pursuant to the agreement in 2017 and beyond."
He noted that SHR was left in a funding lurch too close to the season beginning. In severing the contract, Patrick had at least 20 unsponsored races.
Aspen Dental this week broadened its role with Patrick to fill a chunk of the void created by the Nature's Bakery departure.
Nature's Bakery chose to breach and terminate the contract, leaving SHR in a very difficult position to start the 2017 season. They can file whatever they want. We're confident with our position."
Patrick has 154 starts at NASCAR's top level, with six career top-10 finishes. She won the pole for the Daytona 500 in 2013, and finished 24th in the standings the last two seasons. She led a career-high 30 laps last year. She's twice led laps in the Indianapolis 500, finished a career-best third in that race in 2011 and won her only IndyCar race in 2008, in Japan.
Following the lawsuit, Nature's Bakery informed its stakeholders that the business is healthy and is looking to expand operations and continue its growth in 2017.
"We obviously are disappointed in how things turned out, but we wish Danica Patrick and her new Ford team much success on the track this year," founder Dave Marson said. "We are always going to be NASCAR fans and support the good works that it represents."