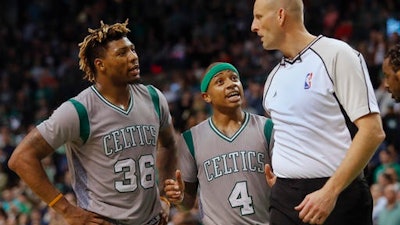 AP Photo/Winslow Townson
BOSTON (AP) — A league official familiar with the deal says the Boston Celtics have reached an agreement with General Electric to put the company's logo on the team's uniform.
The official spoke on the condition of anonymity on Tuesday night because the announcement was scheduled for Wednesday.
The league's collective bargaining agreement allows teams to have an ad measuring 2.5 inches by 2.5 inches on their jerseys, beginning next season. The Celtics will be the third team to announce a deal, joining the Philadelphia 76ers and Sacramento Kings.
The Celtics are a charter member of the NBA and its most decorated franchise, with 17 championships.
General Electric is in the process of moving its corporate headquarters from Connecticut to an old candy factory on the Boston waterfront.