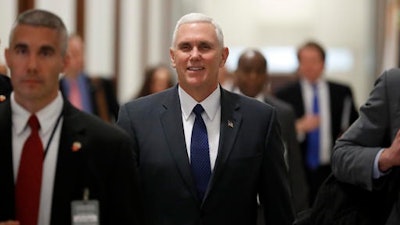 AP Photo/Carolyn Kaster
NEW YORK (AP) — Vice President-elect Mike Pence pledged to a group of mayors that the Trump administration will make a serious investment in infrastructure, and he told diplomats that Trump and his incoming team share "a commitment to engage with all of the world."
Speaking Tuesday to a meeting of the United States Conference of Mayors, Pence said President-elect Donald Trump told him to pass on that "we're going to do an infrastructure bill, and it's going to be big."
Trump, who consistently lamented the state of American bridges, roads and airports while campaigning, has promised to invest $1 trillion in transportation and infrastructure spending, though he has provided few details.
Pence also said the new administration will work with cities as partners. He looked ahead to Friday's inauguration, saying it will mark "the dawn of a new era for our country, it's an era of growth and opportunity and renewed greatness for America."
Trump also made his first trip to Washington in weeks on Tuesday, as his inauguration festivities approach.
Trump flew in for a black-tie dinner honoring Tom Barrack, his longtime friend and head of the Inauguration Committee. The Chairman's Global Dinner drew nearly 150 diplomats and ambassadors, well-heeled donors, soon-to-be White House staffers and Cabinet picks.
"We have great respect for your countries. We have great respect for our world," Trump told the group after he was introduced by Pence, who assured that the future president was willing to engage with the world, despite his "America First" mantra.
"I'm not sure that the national media here in America completely understands the president-elect. I can assure you that the world will," Pence said, adding that Trump "will be a president who puts America first, but we will work every day with nations around the world to advance the peace and prosperity of our allies and our friends across the world."
The president-elect is expected to return to New York after the dinner. He'll make his final trip to Washington on Thursday to attend a concert at the Lincoln Memorial and stay, as is custom for incoming presidents, at Blair House, the presidential guest quarters, the night before he's sworn in.
In New York on Tuesday, Trump met with Boeing CEO Dennis Muilenburg. Trump has criticized the cost of Boeing's Air Force One program.
"We made some great progress to refine requirements for Air Force One, to streamline the process, to streamline certain features, all of that will lead to a better airplane at a lower cost," Muilenberg said after the meeting. He said Trump "is doing a good job as an agent of business" and added that more conversations would be forthcoming. He did not set a timeline on settling on a final price tag.