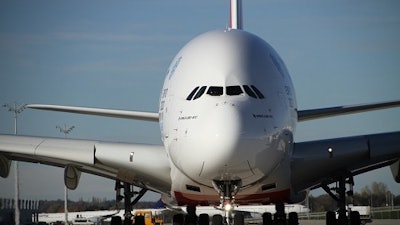 Pixabay
WASHINGTON (AP) — The Obama administration has green-lighted the sale of more than 100 Airbus planes to Iran, officials said Tuesday. It is the latest U.S. license for commercial activity with the Islamic republic following last year's nuclear deal.
Airbus in September received a license to sell 17 planes to Tehran. Two U.S. officials with knowledge of the matter said the European manufacturer got permission Monday to export 106 more. The officials weren't authorized to speak publicly on the matter and demanded anonymity.
Airbus needs Treasury Department approval because at least 10 percent of the plane's components are American-made. Hoping to replace its aging fleet of 1970s U.S. aircraft, Iran has agreed to purchase tens of billions of dollars' worth of planes from Airbus and its American competitor, the Boeing Co.
But both deals rest on precarious ground. President-elect Donald Trump has threatened to re-negotiate President Barack Obama's signature foreign policy achievement, the seven-nation deal that imposed strict limits on Iran's nuclear activity in exchange for the end of wide-ranging oil, trade and financial sanctions.
And last week, the Republican-led House moved decisively to bar the sale of commercial aircraft to Iran. The bill must now clear the Senate, where the measure will likely face stiff opposition from Democrats. Obama would veto the bill if it reaches his desk, according to the White House, but Trump could view things differently once he is inaugurated on Jan. 20.
In a letter to Obama on Tuesday, House Speaker Paul Ryan and two other top Republican lawmakers urged the president "not to take any action that would weaken United States or multilateral sanctions or other restrictions against Iran in this post-election period."
"We respectfully request that your administration take no further actions designed to bolster international investment in Iran," said the letter, also signed by Rep. Kevin McCarthy, the House majority leader, and Rep. Ed Royce, the House Foreign Affairs Committee chairman. A smooth transition, they said, means providing Trump the "opportunity to assess United States policy toward Iran" without new complications.
In response, White House press secretary Josh Earnest said any decisions related to Iran would reflect "actions that have been in the pipeline for quite some time."
The Treasury Department echoed that sentiment, saying the United States already had committed to licensing the export of commercial passenger aircraft to Iran and the U.S. would fulfill that commitment. The licenses include strict requirements that planes be used exclusively for commercial passenger use and not resold or transferred.
The planes are intended for Iran Air, whose sanctions were removed in January, and not Mahan Air, a company backed by Iran's Revolutionary Guard and used for ferrying weapons and fighters to Syria's military. Syrian President Bashar Assad's forces are accused of widespread human rights atrocities in their 5½-year civil war against rebels backed by the United States.
In January, Iran Air signed agreements to buy 118 planes from Airbus, estimated to be worth roughly $25 billion. Iranian officials also have spoken of 112 planes being bought. The two Treasury Department licenses would authorize a sale of 123 planes.
Airbus' base model A320 lists at an average of about $100 million. The A330 costs more than double that amount.
Under Boeing's deal, Iran Air will buy 80 aircraft with a total list price of $17.6 billion. Deliveries are supposed to begin in 2017 and run until 2025. Iran Air also will lease 29 new Boeing 737s, making the deal worth as much as $25 billion in total.