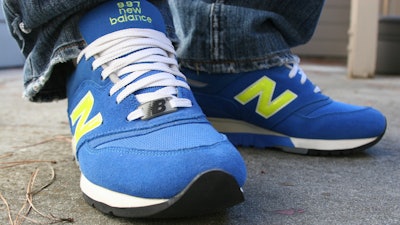 Flickr
A white supremacist website has declared the Boston-based footwear manufacturer New Balance the "Official Shoes of White People."
The Boston Globe reports the alt-right website The Daily Stormer made the proclamation Saturday after New Balance vice president Matt LeBretton praised Republican President-elect Donald Trump.
LeBretton told the Wall Street Journal that Trump's election was a move in the "right direction."
People who don't like Trump burned their New Balance shoes in protest. The company later said LeBretton's comment was referencing Trump's opposition to a proposed international trade agreement.
The Daily Stormer founder Andrew Anglin says the website is encouraging people to buy New Balance products.
New Balance couldn't be reached for comment Monday. It said after the shoes were burned it believes in "acting with the utmost integrity" and welcomes "all walks of life."
The company on Monday stressed it "does not tolerate bigotry or hate in any form." It says it has five factories in the U.S. and has employees "from all races, genders, cultures and sexual orientations."