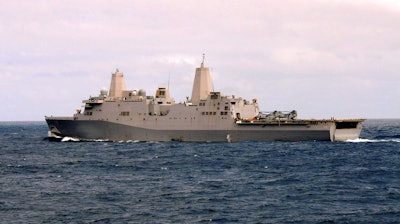 BAE Systems
BAE Systems has received a $36.7 million contract from the U.S. Navy for the repair and maintenance of the amphibious transport dock ship USS New Orleans.
The New Orleans will be the first ship to be repaired in the company's new drydock in San Diego. The contract includes options that, if exercised, would bring the cumulative value to $51.5 million.
BAE Systems will begin work on the 684-foot-long ship in January 2017 and will perform structural and tank repairs, propulsion system repairs, and ventilation and auxiliary systems repairs, as well as preservation of the crew habitability systems and spaces. The work onboard the ship is expected to be completed in March 2018.
BAE Systems has purchased a 55,000 lifting-ton, 950-foot-long drydock for the San Diego shipyard, which will be operational in early 2017.
The company already has a 26,000 lifting-ton drydock at the site. In addition to another drydock in the port, the combination of three drydocks will support the growth of ships in the San Diego port and help the Navy to maintain its operational requirements, while keeping ships in their homeport for extensive repairs.
The surface ship fleet in San Diego, excluding aircraft carriers, is expected to grow from 59 ships now to 70 vessels by 2020, as the Navy increases its focus on Asia-Pacific operations.
BAE Systems' $100 million investment in a new drydock and other capabilities will support the increased size of the fleet.
BAE Systems is a provider of ship repair, maintenance, modernization, conversion, and overhaul services for the Navy, other government agencies, and select commercial customers.
The company operates seven full-service shipyards in Alabama, California, Florida, Hawaii, and Virginia, and offers a highly skilled, experienced workforce, eight dry docks, and significant pier space and ship support services.