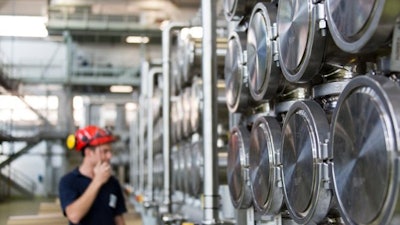 Novamont
MILAN (AP) — The Italian biochemical company Novamont on Thursday unveiled the first plant in the world to make a chemical compound used in the production of plastics with renewable sources.
Novamont CEO Catia Bastioli said that the company has invested more than 100 million euros ($112 million) to convert an abandoned plant located in Bottrighe, near Rovigo in Italy's Po River delta, to start industrial production of the chemical compound, bio-butanediol.
The plant's 70-plus employees include 10 who worked at the previous plant, which had closed about a decade ago.
While the bio-butanediol compound has many applications, the new Mater-Biotech plant's production will be used primarily for biodegradable plastics for fruit and vegetable bags, food service products and shopping bags.
The bio-butanediol chemical compound is made from sugars derived from corn biomass, tying the plant to local agriculture production.
"We feel if we solve the problem of quality of organic waste, this is society-changing because today in Europe, a lot of organic waste is put in landfills, which is incredible," Bastioli said.
Until now, industrial production of butanediol has only been from fossil fuel sources. The plant will produce 30,000 tons a year, with the current global market running around 2 million tons.
The plant, which starts production Friday, is emblematic of Novamont's business model to convert uncompetitive sites into cutting-edge research centers and industrial plants, using renewable resources.