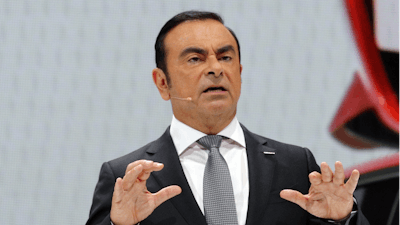 AP Photo/Christophe Ena
PARIS (AP) — Renault has reached a deal with Iran's government to open a plant making at least 150,000 vehicles a year, as European companies race for a share of Iran's market now that international sanctions have been lifted.
The French carmaker announced the deal with the Industrial Development & Renovation Organization of Iran on Friday, during the Paris auto show.
The plant in a Tehran suburb will produce Duster and Symbol cars starting in 2018. Renault will be majority shareholder, and have its own distribution network in Iran for the first time, according to a company statement. Financial details were not released.
Renault-Nissan CEO Carlos Ghosn said Iran could have demand for two million cars in 2020, making it a market with "undeniable potential."
"The Iranian government wants to attract foreign investment in the Iranian car industry to bring competitive new products benefiting Iranian customers with respect to standard, quality and safety," Industry Minister Mohammad Reza Nematzadeh said in the statement.
He said Renault was chosen because it has been in the country for 12 years, though activities were frozen while Iran was under sanctions over its nuclear program. The deal is in addition to a joint venture between Renault and Iran signed earlier this year to revive production at a plant where Renault's activities had been suspended.
Renault's crosstown rival PSA Peugeot-Citroen was especially active in Iran before the sanctions, and has also revived activities this year.
The Iranian minister visited the Peugeot-Citroen stand at the Paris auto show, and CEO Carlos Tavares said the company will produce 150,000 vehicles this year and wants to double that in 2017.
Iran's automobile industry builds some 900,000 vehicles a year, though authorities hope to build three million annually by 2025. Over 90 percent of market share is controlled by Iran Khodro, which assembles Peugeot-branded vehicles from kits, and SAIPA, which has made Citroens and Kias. Both manufacturers also build Renaults.
Since Iran reached a landmark deal with international powers to curb its nuclear program, analysts have predicted the auto industry would grow if Iran's economy improves. However, the trickle-down effect of the accord has yet to be seen in the streets, as unemployment remains high.