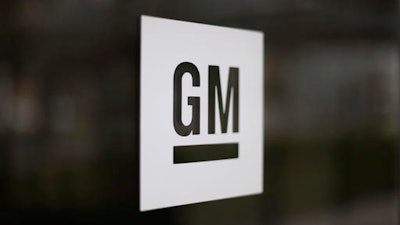 DETROIT (AP) — General Motors and the Canadian auto workers union Unifor have reached a tentative contract agreement, averting a strike that was threatened for midnight Monday.
Union President Jerry Dias said the deal will bring new products to the Oshawa assembly plant near Toronto and an engine plant in St. Catherines, Ontario. Details were few at an early morning press conference in Toronto, but Dias said workers will get pay raises and lump-sum payments, and about 700 temporary employees at the plants will go full-time if the deal is ratified by members.
With the agreement, Unifor won on its most important issue, securing a future for the two Ontario factories. The deal brings an end to fears that GM would close the Oshawa plant. The three cars it makes, the Cadillac XTS, Chevrolet Impala and Buick Regal, are scheduled to go out of production in 2019. The factory also makes the Chevrolet Equinox crossover SUV, but its production there is scheduled to end in July of next year.
"Our fear of a closure in 2019 is now over," Dias said. "The facility clearly has a bright future."
The agreement also is a big boost for the Canadian auto industry, which recently has seen products move to plants in the U.S. and Mexico.
GM said in a statement that the deal will bring significant new products, technology and investment to Oshawa and St. Catherines, "placing those operations at the forefront of advanced manufacturing flexibility, innovation and environmental sustainability."
The deal was reached just before the contract expired at 11:59 p.m., Dias said. Both sides said a lot of details still must be worked out, and the company said it would release more information later.
GM will invest hundreds of millions of dollars in the Oshawa plant, according to Dias. The company said it will be working with governments on potential incentives.
Dias wouldn't identify the new products that will be made at the Oshawa factory, but he said it would become the only GM plant capable of building both cars and trucks. The St. Catherines plant also will build more of an existing engine as GM moves production from Mexico, Dias said. He said employment eventually will increase at the plants.
Dias said the only thing the union gave up was a defined benefit pension plan for new hires. With 75 percent of Oshawa's workers eligible for retirement, the company could save money by offering buyouts and replacing those workers with new hires, who would get a defined contribution plan. That would unload a pension obligation. Dias wouldn't comment on whether buyouts would be offered.
About 4,000 workers at the two factories had been poised to go on strike if a month of contentious talks failed to bring an agreement. Analysts had feared a long strike could have disrupted production of GM's important small SUVs and big pickup trucks and SUVs.