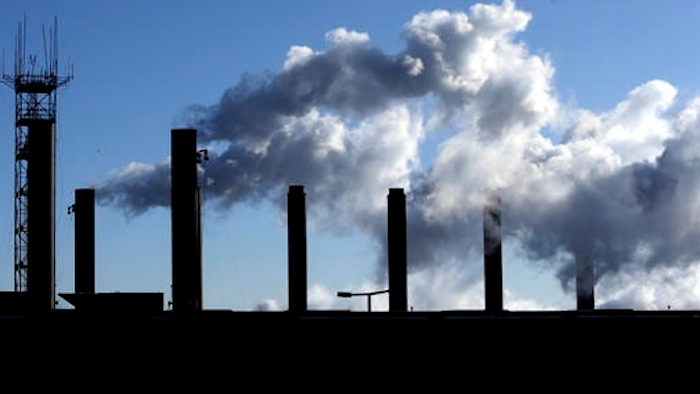 AP Photo/Nam Y. Huh, File
WASHINGTON (AP) — U.S. factory output fell, consumers cut back at retailers and wholesale prices went nowhere in August, the latest evidence of a less-than-robust economy. The weak numbers could give the Federal Reserve further reason to hold off on raising interest rates when it meets next week.
"All the data seem to say the same thing: Not much is happening in the economy," said Joel Naroff of Naroff Economic Advisors. "We have no inflation, not a lot of consumer spending, not much production ... The data don't demand that the Fed do anything right now."
The Fed reported Thursday that factory production fell 0.4 percent last month. Overall industrial production — which combines manufacturing, mines and utilities — dropped by an identical amount.
A second report Thursday suggested that the factory weakness may be extending into September. The Federal Reserve Bank of New York said that manufacturing in New York shrank in September for a second straight month. New orders and shipments fell sharply.
Earlier this month, a survey by the Institute for Supply Management showed that U.S. manufacturing contracted in August for the first time since February. Still, the Philadelphia Fed reported Thursday that its manufacturing gauge climbed in September for a second straight month, suggesting greater factory output in the mid-Atlantic region.
In reporting its closely watched measure of retail spending, the Commerce Department said that retail sales fell in August for the first time in five months. Consumers spent less on building materials, furniture and cars. Americans did spend more at clothing retailers, restaurants and bars.
"They were buying T shirts and eating out — and that was about it," Naroff said.
Noting the slide in retail sales, Barclays Research downgraded its forecast for U.S. economic growth from July through September to an annual rate of 2.6 percent from 2.8 percent earlier.
"The report was soft across the board," Barclays economists said in a research report.
The Fed will meet Tuesday and Wednesday, after which it will announce whether it will resume raising interest rates. In December, it raised its benchmark short-term rate from a record low, where it had been since the depths of the 2008 financial crisis, but hasn't increased it since then.
In recent days, some Fed policymakers have said a rate hike should be considered next week. But given recent lackluster economic reports, investors peg the chances of a September rate hike at just 12 percent, according to figures from the CME Group. They foresee a 51 percent chance of a rate hike at the Fed's December meeting.
One reason the Fed might hold off: Inflation remains excessively low. The Labor Department reported Thursday that producer prices were unchanged in August. Core wholesale inflation, which excludes volatile energy and food prices, rose just 0.1 percent in August and 1 percent over the past year. Overall, inflation is running well below the Fed's 2 percent annual target.
American economic growth has been sluggish since late last year, slowed by worldwide economic weakness and a strong dollar, which has made U.S. goods pricier overseas.
At the same time, the U.S. job market remains solid. Employers have added 204,000 jobs a month over the past year, though hiring dipped to 151,000 in August. The Labor Department said Thursday that the number of Americans applying for unemployment benefits came in under 300,000 for the 80th straight week — the longest such streak since 1970.
Healthy hiring and sluggish growth can be a worrisome combination suggesting that companies need more workers to generate the same amount of product.
In fact, American workers' productivity — output per hour of work — has fallen for three straight quarters for the first time since 1979.