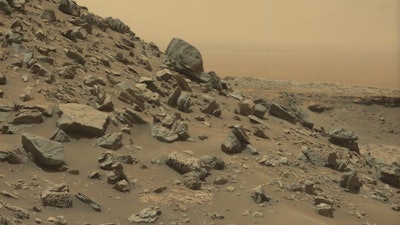 NASA/JPL-Caltech/MSSS
New color images returned by NASA's Curiosity Mars rover, which is currently exploring the Murray Buttes region of lower Mount Sharp on the planet, offers pictures that NASA describes as "a bit of the American desert on Mars".
The Martian buttes and mesas rising above the surface are eroded remnants of ancient sandstone thought to have originated when winds deposited sand after lower Mount Sharp had formed.
The new images represent Curiosity's last stop in the Murray Buttes, where the rover has been driving for just over one month. As of this week, Curiosity has exited these buttes toward the south, driving up to the base of the final butte on its way out.
Curiosity landed near Mount Sharp in 2012 and reached the base of the mountain in 2014. The images and drilling activities hope to provide clues relating to weather changes and geological patterns. This research could answer questions about how the planet has changed over time.
Mount Sharp has given NASA scientists a lot to discuss, with Curiosity discovering signs of ancient lakes at its base that could have been favorable for microbes if Mars ever was hospitable for life. This stands in opposition to the dry, dusty planet scientists have only ever seen.