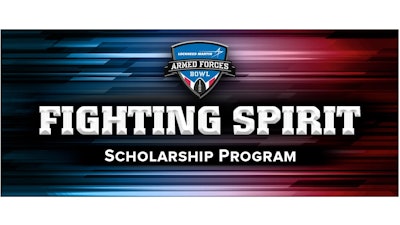 Lockheed Martin yesterday announced a scholarship to aid wounded warriors of the United States armed services.
The Lockheed Martin Fighting Spirit Scholarship provides sports and physical activity programs for wounded veterans, with the honorees introduced as part of the Lockheed Martin Armed Forces Bowl activities Dec. 23 in Fort Worth.
Lockheed Martin is sponsoring scholarships for two veterans, one for flying and the second for sailing, through two world-famous programs.
The flying scholarship is conducted through Able Flight, an organization providing flight and aviation career training for people with a variety of physical disabilities, including wounded and disabled veterans.
The sailing scholarship is conducted through the Warrior Sailing Program, which is dedicated to providing sailing certification and education for wounded, ill and injured U.S. military service members.
After successful completion of Able Flight's six-week flight school, held at Purdue University's Department of Aviation Technology, the flying scholarship recipient will receive a call sign, earn a pilot's license and receive his or her wings at the EAA AirVenture Oshkosh airshow in July 2017.
The sailing scholarship recipient receives a nationally recognized Basic Keelboat Sailing Certification after successful completion of the Warrior Sailing Program's Basic and Advanced Training programs.
Able Flight and Warrior Sailing Program will each select one candidate for the Lockheed Martin Fighting Spirit Scholarship from the pool of applicants who apply through their respective websites.