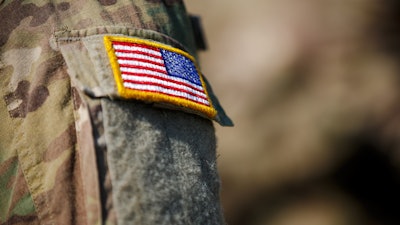 On the surface, the manufacturing industry's "good news, bad news" scenario appears to lean toward the good.
The 2016 Global Manufacturing Competitiveness Index projects the U.S. will be the most competitive manufacturing economy in the world, currently being held by China, by 2020, and in a recent National Association of Manufacturers survey, 93.3 percent of manufacturing executives said they were optimistic about the future.
Yet, a skills gap persists, and it's threatening to put a damper on manufacturing's bright future. In fact, according to a Deloitte/Manufacturing Institute report, more than three million manufacturing jobs are expected to open from 2014 to 2024; however, the same study estimates manufacturers will be unable to fill two million of them.
How can forward-thinking manufacturers prepare for the expected growth and lack of manufacturing talent? As part of your hiring strategy, you may want to consider hiring veterans. Following are 10 reasons to hire veterans along with some tips to implement a veterans-hiring program at your facility.
Reason #1: The Special Employers Incentive Program
The U.S. Department of Veterans Affairs administers the Special Employers Incentive (SEI) program. Under this program, businesses that hire eligible veterans receive up to 50 percent of the veteran's first six months of salary back. The SEI award is meant to cover the training costs of new veteran employees.
Reason #2: Tax Credits
Tax credits are available to companies that hire eligible veterans. The Wounded Warriors Tax Credit offers up to $9,600 in incentives, and the Returning Heroes Tax Credit offers up to $5,600. Both fall under the extended Work Opportunity Tax Credit signed into law in 2016.
8 More Reasons to Hire Veterans
Although incentives can make the decision to hire veterans easier, recruiters still must find employees who'll make good long-term employees. Here are eight more reasons why hiring veterans is a good idea:
1. They have leadership skills
Honorably discharged veterans have successfully worked in one of the best institutions for producing leaders – the U.S. military. Few private or public organizations can match its ability to develop leadership skills built on a foundation of service and duty.
2. Rules mean something to veterans
In a manufacturing environment, processes ensure a product's quality, timely delivery, safety of the crew – essentially, everything. The regimented structure of a manufacturing job is ideal for a former military member. They understand that specific procedures manage risk and ensure success.
3. Teamwork is second nature
It's no coincidence that an Air Force squadron or Army battalion is sometimes referred to as a unit. The members of a military unit approach a task collectively, understanding that each has a responsibility that contributes to a successful outcome – similar to how manufacturing teams operate.
4. Veterans can perform under pressure
Soldiers are trained to adjust to changing situations, making them agile and able to think on their feet. Some servicemen and women have made decisions that saved their lives and the lives of others. Wouldn't you like team members who can react under pressure and make good decisions?
5. Integrity is important
Veterans understand how to contribute a full day's work. Plus, some veterans have advanced security clearances, further ensuring their trustworthiness.
6. Safety protocols are familiar
Comprehensive safety training is a regular part of the military experience, particularly when the service men and women work with heavy equipment, aircraft, ships, vehicles and machinery. When transitioning into a manufacturing environment, many veterans are already familiar with working within strict safety protocols.
7. Many skills transition easily
The military experience develops a wide-range of skills that would be valued and transition easily into civilian manufacturing. In addition to the skills already identified, such as leadership and adaptability, many veterans would be able to perform risk analysis, follow detailed procedures, collect data and think critically.
8. They are comfortable with diversity
Most veterans have worked with a wide variety of individuals in many different roles. The military fosters an attitude of camaraderie among diverse team members that is a great asset to a civilian manufacturing workforce.
5 Tips to Implementing a Veterans-Hiring Program
The benefits of hiring honorably discharged military members are clear. Not only are there tax and cash incentives to help cover training for veterans, but they also have the skills to become quality, long-term employees.
Even though hiring veterans appears to be a logical choice, there's no guarantee the executive team will be on board. Here are five ways to present the opportunity and create a program to hire veterans at your company:
1. Get executive management buy-in
You'll need to demonstrate three things:
The cost savings of hiring veterans under the SEI program
The tax credits the company would qualify for
How skills acquired during veterans' service would transition well into your manufacturing facility
2. Reach out
Send recruiters and hiring managers to job fairs aimed at veterans. Talk to candidates about their military roles to see if they are a match to your open jobs – or, if there are indications that with training, they would be a good match.
3. Translate open jobs into military occupation codes
Each branch of the military categorizes jobs with a number, commonly called a Military Occupation Specialty code or MOS code. With a little research, your company's human resource specialists can determine which MOS codes in each branch of the military translate to your company's open jobs. This helps veterans identify the jobs they are qualified for while telling them you are serious about hiring vets. One tool that can help is mynextmove.org
4. Support the transition from military to civilian life
There are significant differences between a military workplace and a civilian one. Set up a mentorship program that can help veterans transition successfully into your organization. Veterans can also benefit from a community of fellow former military personnel to help create a positive culture within your company.
5. Post to veteran job boards
Post open positions on job sites specifically for veterans. Three of the top sites are:
In addition, most states CareerOneStop websites have specific areas for job posting for veterans.
This blog appeared on the Manufacturing Innovation Blog. For more information about MEP workforce programs, click here.