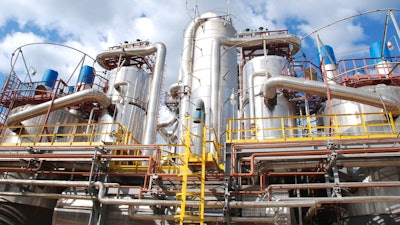 GE
BADEN, SWITZERLAND — As Russian industries seek to modernize their existing production facilities to increase environmental and economic sustainability, GE's Power Services business today announced it will provide OJSC TogliattiAzot (ToAZ) with parts to upgrade two GE industrial steam turbines at the company's ammonia production facility in the city of Togliatti.
GE also will supply spare turbine parts for three additional compressor trains and will help ToAZ, one of the world's largest ammonia production facilities, reduce its operational costs by doubling the length of time between maintenance intervals.
"This large-scale modernization program for our ammonia production facility aims to increase the reliability and effectiveness of our equipment," said Victor Kazachkov, chief operations officer of ToAZ, the plant's managing company. "Upgrading ToAZ's compression trains is a crucial step to help boost production capacity. As the original equipment supplier, GE is familiar with our operations and has the technology and domain expertise to provide a highly effective and reliable solution that can be implemented without affecting our existing workflow."
The multiphase project seeks to modernize the plant's low pressure and high pressure of the GE industrial steam turbines that drive their corresponding low- and high-pressure syngas compressors in mechanical-drive mode.
Based on the results of a field test and an engineering study, GE proposed a new configuration of the front standard of the low- and high-pressure steam turbines, which were previously manufactured by GE.
GE also proposed an update of the low-pressure steam turbine and replacing major components and the control system of the steam turbines to return the syngas compressors trains to 100 percent production capacity, increasing their reliability and long-term availability. The control system upgrade will further increase the turbines' operability and reliability.
GE's parts will be shipped mostly from the United States during the third and fourth quarters of 2016, and the plan is for installation at the site during the fourth quarter of 2016.
ToAZ is one of the largest producers of chemicals in Russia and is listed among the world's top 10 producers of ammonia. Its capacity allows production of more than three million tons of ammonia and more than 960 thousand tons of urea per annum.
The city of Togliatti (or Tolyatti) is located in Samara Oblast in the southwestern region of the Russian Federation.