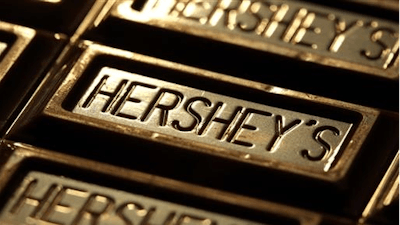 AP Photo/Charlie Riedel, File
NEW YORK (AP) — Hershey says its board has unanimously rejected a takeover offer from Oreo maker Mondelez and that the offer provided "no basis for further discussion."
The chocolate maker confirmed that it received the preliminary offer from Mondelez International to be taken over for a mix of cash and stock totaling $107 for each share of Hershey common stock.
That would value the deal at roughly $22.3 billion, according to FactSet.
The Wall Street Journal, citing sources it did not name, reported earlier in the day that Mondelez recently sent Hershey a letter proposing the deal. Mondelez International Inc. said it would take on Hershey's name and move its global headquarters to Hershey, Pennsylvania, according to the Journal.
The paper noted the deal would be subject to the approval of the Hershey Trust. The trust owns 8.3 percent of Hershey's shares, according to FactSet.
A spokeswoman for Mondelez, Valerie Moens, had said earlier that the company does not comment on "market rumors or speculation." Moens did not immediately respond to a request for comment about Hershey's rejection of the offer.
In addition to Oreos, Mondelez International Inc., based in Deerfield, Illinois, owns Cadbury chocolates, Trident gum, Nabisco cookies and Ritz crackers. The company split from Kraft in 2012, taking with it brands that were seen as having greater international potential.
The acquisition of Hershey would have given the combined company 18 percent of the global candy market and made it the industry's largest player, according to Euromonitor International. Mars Inc., which makes M&M's and Snickers, is currently No. 1 with 13.5 percent of the market.
In a note to investors, J.P. Morgan analyst Ken Goldman said that at least part of Mondelez's rationale for making the bid was probably "defensive in nature," as the company did not want to be acquired by The Kraft Heinz Co, if Kraft was even interested.
A tie-up between Mondelez and Hershey would have marked just the latest chapter in a series of deals in the packaged food industry, with companies looking for ways to improve their financial results while up against struggling sales growth in major markets such as the U.S. When Heinz announced plans to buy Kraft last year, for instance, executives cited the cost savings that would be achieved by combining manufacturing and distribution networks.