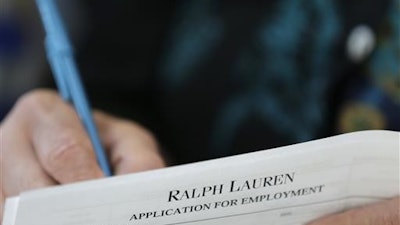 AP Photo/Wilfredo Lee, File
WASHINGTON (AP) — More Americans applied for unemployment benefits last week, but the level of jobless claims remains low enough to suggest that most workers enjoy job security.
The Labor Department said Thursday that weekly U.S. applications rose by 10,000 to a seasonally adjusted 268,000. The 4-week average, which is less volatile, was unchanged at 267,000.
Unemployment claims are a proxy for layoffs. They have remained below 300,000 for 69 straight weeks, the longest such streak since 1973.
Hiring has slowed this spring. Employers added just 38,000 jobs last month, the fewest in more than five years. But even if they are not adding many workers, employers are still reluctant to reduce their staffs. The unemployment rate fell in May to 4.7 percent, lowest in more than eight years.
The U.S. economy got off to a slow start this year, growing at a weak annual pace of just 1.1 percent from January through March. Economists expect growth to pick this quarter, driven by healthy consumer spending.
Still, the Federal Reserve has been reluctant to declare the economy completely healthy, deciding at all four meetings this year that conditions were not yet strong enough to justify higher interest rates. Britain's June 23 decision to leave the European Union has rattled markets and created uncertainty about the global economic outlook.